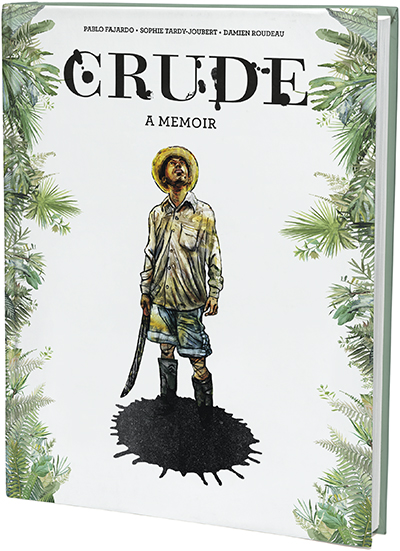 Crude
A Memoir
Pablo Fajardo, Sophie Tardy-Joubert, Illustrated by Damien Roudeau, and translated by Hannah Chute
A New York Public Library Best Book for Adults (2021)

An American Library Association Best Graphic Novel for Adults (2021)

A New York Public Library "Must-Read" Comic

"This visually stunning graphic memoir [is] part horror story, part urgent manifesto. . . . Readers will root for Fajardo's account to herald meaningful change."
Oil waste was everywhere—on the roads, in the rivers where they fished, and in the water that they used for bathing, cooking, and washing. Children became sick and died, cases of stomach cancer skyrocketed, and women miscarried or gave birth to children with congenital disorders. The American oil company Texaco—now part of Chevron—extracted its first barrel of crude oil from Amazonian Ecuador in 1972. It left behind millions of gallons of spilled oil and more than eighteen million gallons of toxic waste.
In Crude, Ecuadorian lawyer and activist Pablo Fajardo gives a firsthand account of Texaco's involvement in the Amazon as well as the ensuing legal battles between the oil company, the Ecuadorian government, and the region's inhabitants. As a teenager, Fajardo worked in the Amazonian oil fields, where he witnessed the consequences of Texaco/Chevron's indifference to the environment and to the inhabitants of the Amazon. Fajardo mobilized with his peers to seek reparations and in time became the lead counsel for UDAPT (Union of People Affected by Texaco), a group of more than thirty thousand small farmers and indigenous people from the northern Ecuadorian Amazon who continue to fight for reparations and remediation to this day.
Eye-opening and galvanizing, Crude brings to light one of the least well-known but most important cases of environmental and racial injustice of our time.
"This visually stunning graphic memoir [is] part horror story, part urgent manifesto. . . . Readers will root for Fajardo's account to herald meaningful change."
"Staggering. . . . Give this book to those readers who shun graphic novels for their lack of artistic talent and those who support global environmental causes."
"The record of North American corporations in Amazonia has been a wretched one. They have extracted the wealth of the country, ruined the way of life of the native peoples, and left messes behind for others to clean up. For years Chevron has been using the courts to evade its responsibility for the toxic wasteland it created in Amazonian Ecuador. Let us hope that this graphic retelling of the story of Chevron's depredations will awaken the conscience of the corporation's shareholders."
"In the battle to preserve our planet, there are both villains and heroes. Crude: A Memoir tells the story of Ecuadorian lawyer and activist Pablo Fajardo and his heroic efforts to defend the Amazon's inhabitants from corporate polluters set on exploiting this unspoiled natural wonder. Read this engaging graphic novel and be inspired to make a difference yourself."
"As a filmmaker, I had the rare pleasure of observing Pablo Fajardo for several years in the heat of his David-and-Goliath battle for environmental justice. His perseverance and dedication to his people and to the Amazon are remarkable. Pablo is a true hero in every sense of the word, and his story should inspire regular people everywhere to take a stand for basic human rights and the safeguarding of the environment."
"Crude is a comics memoir, a call to action, and a history that needs to be heard. It is a comic that asks you to linger, to take it all in, and to not just sit with this history and injustice but to let it saturate your being such that you must take action, however you can, to aid in the fight for reparations."