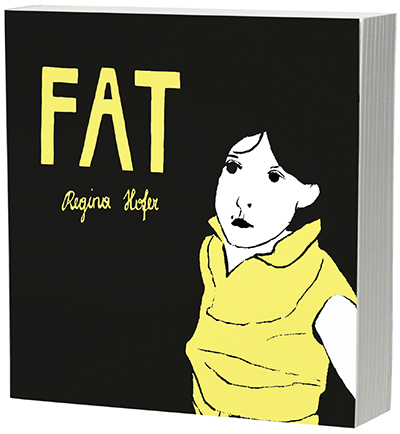 Fat
Regina Hofer, and translated by Natascha Hoffmeyer
"Extraordinary. . . . Juxtaposing surreal imagery and unvarnished confessions, this intense work opens up the pain of living with an eating disorder, pairing artistic innovation with wrenching confessional."
At sixteen, Regina began cutting back on meals to the point where her hair started to fall out.  Later, she began to binge at night while her family slept. For a long time, she was able to keep her eating disorder a secret, though hiding her problem didn't stop it from harming her emotional and physical well-being. The pressures of wanting to succeed as an artist led her to a nervous breakdown and, finally, a strong desire to start from scratch.
In Fat, Austrian-born author and artist Regina Hofer documents her battle with anorexia and bulimia. This powerful and imaginative graphic novel follows Regina from her childhood home in Upper Austria, where food and family mealtimes were often associated with feelings of personal failure, to art school at the Mozarteum University Salzburg and a violent reckoning with her dysfunctional family.
Vivid and courageous, this memoir will resonate with anyone living through or seeking to understand what it is like to live with an eating disorder.
"Extraordinary. . . . Juxtaposing surreal imagery and unvarnished confessions, this intense work opens up the pain of living with an eating disorder, pairing artistic innovation with wrenching confessional."
"A stylish, touching graphic memoir. I love the square, monochrome format and intelligently playful layouts. This is a book that deserves your attention."
"An important story, one that will explain the suffering millions of people endure better than any doctor."
"Hofer's work is sparse, rich with blacks, and heavy on its impact. . . . An uncomfortable read, but one that nevertheless can evoke a lot of feeling and understanding."
"The narrator's life story, told with occasional flashbacks and vivid, touching detail, makes a lasting impact on the reader."
"In minimalist, symbolic, and expressive visual language, Hofer describes a daily struggle with her own body."
"It is clear it can serve two purposes: allowing the author to honestly discuss her struggles with anorexia, bulimia, depression, and family conflict while using this as a medium for others who are currently struggling with any of the above topics to gain clarity and insight into another's similar struggle and modicum of success. Given the increased incidence of eating disorders, it is a worthy objective."