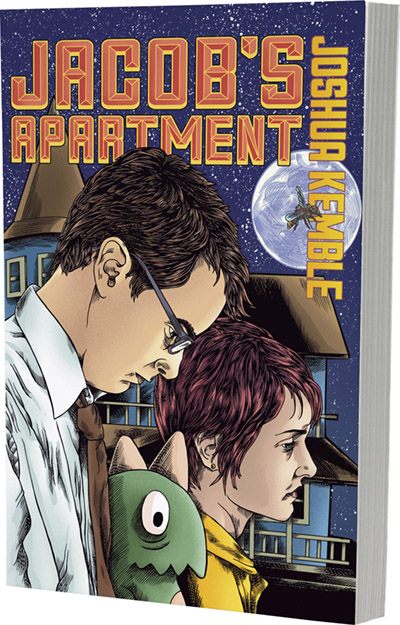 Jacob's Apartment
Written and Drawn By Joshua Kemble
"I am in awe of this sharply drawn story of a young cartoonist weathering two troubled relationships—with his roommate and with God."
Some questions can shake even the strongest faith.
At first glance, college roommates Jacob and Sarah seem like polar opposites. Jacob is a Christian; Sarah is an atheist. Sarah is a drinker, and Jacob, a teetotaler. But they have been friends for years, finding commonality in their shared dream to create art.
Jacob's world is turned upside down when his father dies, causing him to question his faith. Meanwhile, Sarah wrestles with her own demons, searching for solace in one-night stands after her boyfriend (and professor) leaves her for a job in New York.
A coming-of-age graphic novel in the vein of Ghost World and Fun Home, Jacob's Apartment weaves together the threads of spiritual faith, identity, purpose, love, and loss to create an engrossing world in which waking and sleeping dreams collide.
"I am in awe of this sharply drawn story of a young cartoonist weathering two troubled relationships—with his roommate and with God."
"Literacy is next to godliness in Jacob's Apartment, a frank and melancholy portrait of two souls in search of meaning."
"Joshua Kemble's storytelling packs a terrific visual punch perfectly suited to the emotional wringer his characters go through in Jacob's Apartment."
"An expertly paced and deeply felt story about a crisis of faith, dreams, complicated love, and the ways our childhood selves haunt our adult lives."