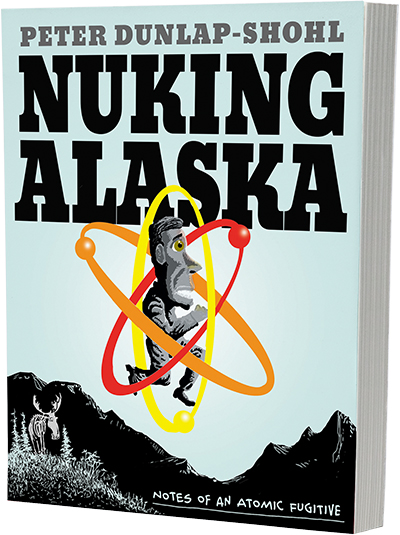 Nuking Alaska
Notes of an Atomic Fugitive
Peter Dunlap-Shohl
"Now everyone knows what cartoonists all across America know: Peter Dunlap-Shohl is an absolute genius and an artistic master. This book is an astounding demonstration of his brilliant writing and stunning execution of a defining moment in Alaska and the Cold War."
As if, in midcentury Alaska, you needed more ways to die.
From the creator of the critically acclaimed graphic novel My Degeneration: A Journey Through Parkinson's comes an unnervingly funny tale of life in Alaska during the tensest times of the Cold War.
Peter Dunlap-Shohl grew up on the front lines of the Cold War in the 1950s and '60s, where Alaska residents lived in the shadow of a nuclear arsenal nine times the size of the Soviet Union's. This graphic novel recounts the surprising and tragicomic details of the nuclear threats faced by Alaskans, including Project Chariot, championed by Edward Teller and his "firecracker boys" in the late 1950s and early '60s; the nearly nuclear disaster caused by the Great Alaskan Earthquake of 1964; and the 1971 test of a nuclear warhead on the island of Amchitka. Dunlap-Shohl shares the terrible consequences that these events and others had for humans and animals alike, all in the service of "atoms for peace."
Drawn with Dunlap-Shohl's characteristic editorial cartooning style, Nuking Alaska is a fast-paced reminder of how close we came to total annihilation just a half century ago—and how terribly relevant the nuclear threat remains to this day.
"Now everyone knows what cartoonists all across America know: Peter Dunlap-Shohl is an absolute genius and an artistic master. This book is an astounding demonstration of his brilliant writing and stunning execution of a defining moment in Alaska and the Cold War."
"Peter Dunlap-Shohl shapes scientific genius, Cold War madness, and his Alaskan childhood into an expansive story that would be unbelievable if it weren't so deeply researched. Nuking Alaska is darkly funny and frightening personal, political, and historical journalism."
"WARNING! WARNING! Nuking Alaska is an explosive, devastatingly hilarious, and bone-shaking revelation of a mind-blowing history we never learned and just might not survive to tell others about. With pages positively glowing with Dunlap-Shohl's radioactive art, you'll be up all night and left radiating and melting down to your friends about all the atoms of obscure and ridiculous nuclear madness Alaska and the world have faced since we've entered the era of boomers."