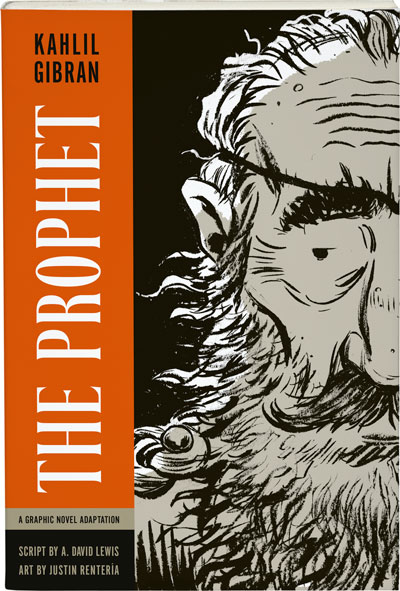 The Prophet
A Graphic Novel Adaptation
Kahlil Gibran, Script by A. David Lewis, and art by Justin Rentería
The sea that calls all things unto her calls me, and I must embark.
One of the best known and most translated works of free-verse poetry ever published in the English language, The Prophet, by Lebanon-born Kahlil Gibran, tells the story of the prophet Almustafa, who was banished from his homeland and who has lived the last twelve years of his life as a refugee among the good people of Orphalese. One day, as he prepares to board the ship that will take him home, Almustafa addresses a gathering of townspeople who have come to see him off. His parting words of wisdom about the human condition reveal him to be a man who sees deeply into the hearts, minds, and souls of his peers.
While remaining faithful to the original text, the script adaptation by A. David Lewis provides backstory details that provide greater insight into the enigmatic main character. And the illustrations by Justin Renteria, inspired by a 1920s Ottoman style, are vibrant, authentic, and skillfully paced. Appearing exactly one hundred years after the original 1923 publication of Gibran's masterpiece, and at a time when entire groups of people are being forced to seek refuge elsewhere, this fresh and visually compelling rendering of The Prophet conveys the original work's bracing and inspirational message about what it means to live well in today's world.