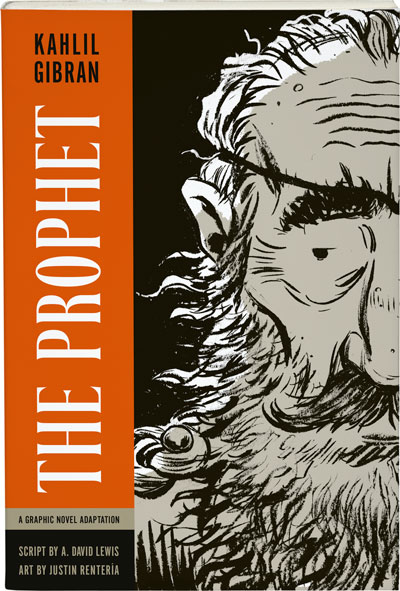 The Prophet
A Graphic Novel Adaptation
Kahlil Gibran, Script by A. David Lewis, and art by Justin Rentería
"A. David Lewis's skillful weaving of a richly realized underlying narrative coupled with Justin Rentería's evocative drawings that breathe life into the characters of Orphalese create a lively adaptation of The Prophet, one sure to draw in new readers and invite those with well-worn copies of Kahlil Gibran's beloved work to rediscover it all over again."
The sea that calls all things unto her calls me, and I must embark.
One of the best known and most translated works of free-verse poetry ever published in the English language, The Prophet, by Lebanon-born Kahlil Gibran, tells the story of the prophet Almustafa, who was banished from his homeland and who has lived the last twelve years of his life as a refugee among the good people of Orphalese. One day, as he prepares to board the ship that will take him home, Almustafa addresses a gathering of townspeople who have come to see him off. His parting words of wisdom about the human condition reveal him to be a man who sees deeply into the hearts, minds, and souls of his peers.
While remaining faithful to the original text, the script adaptation by A. David Lewis provides backstory details that provide greater insight into the enigmatic main character. And the illustrations by Justin Rentería, inspired by a 1920s Ottoman style, are vibrant, authentic, and skillfully paced. Appearing exactly one hundred years after the original 1923 publication of Gibran's masterpiece, and at a time when entire groups of people are being forced to seek refuge elsewhere, this fresh and visually compelling rendering of The Prophet conveys the original work's bracing and inspirational message about what it means to live well in today's world.
"A. David Lewis's skillful weaving of a richly realized underlying narrative coupled with Justin Rentería's evocative drawings that breathe life into the characters of Orphalese create a lively adaptation of The Prophet, one sure to draw in new readers and invite those with well-worn copies of Kahlil Gibran's beloved work to rediscover it all over again."
A seminal work of free-verse poetry, Kahlil Gibran's The Prophet carries myriad lessons that can be adapted for use in the classroom. We hope that this graphic novel adaptation helps you do so. With that in mind, we are happy to provide the following materials to get you started:
1. A Q&A with A. David Lewis and Justin Rentería that discusses why students (or anyone) should engage with The Prophet, the grade ranges and types of classes the adaptation could be used for, and commentary about classroom discussions.
2. A Q&A with Lewis and Rentería about how they created their adaptation, from concept and illustration choices to selecting which portions of the poem would best be captured by direct quotes versus imagery.
3. A full lesson plan developed by Matthew Noe, Lead Collection and Knowledge Management Librarian at the Harvard Medical School Countway Library. A comics and graphic novel specialist, Noe's lesson plans, reviews, and commentary can be found at Noe's Comics Nook.